PlayerLands Have Partnered With Apex hosting
We're proud to announce our Partnership with Apex Hosting , one of the biggest Minecraft server hosting in the world!
Starting your own Minecraft server is difficult, we understand there are numerous server hosting companies to choose from. Apex Hosting makes it a lot easier to decide by the low cost services, the quick start up and amazing features they have to offer.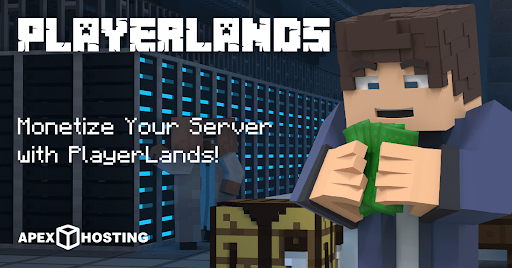 With Apex Hosting - it is quick, easy and affordable. After making a few selections for what size server and version you would like to start with, your server will be deployed within seconds.
We know that running a server by yourself is difficult so you may have your friends help you, PlayerLands have made it so you can have multiple staff accounts to help run your store!
As you may know Apex Hosting's game library expanded quite a bit in the past year. You can expect further expansion in this department with PlayerLands so you can have as many stores for your servers as you want, all on 1 PlayerLands account. Within this 1 account you can have some amazing features such as their own HTML & CSS editor, so you can make your store as custom as possible.
PlayerLands wants what is best for their customers, that's why they have lightning speed delivery times, you can have your items within seconds! With the purchases you can also have Webhooks upon players purchase which can be set to anything of your choice. Let's not forget the abandoned basket recovery, which is ever so useful.
So make sure you connect your PlayerLands store with your Minecraft server with Apex Hosting, and start monetizing your server to turn your hobby into your own business!